DIN Rail Terminals
IMO's DIN Rail terminals offering is one of the largest available anywhere in the world, and has undergone continuous development in order to bring to you the ranges that we have today. All IMO DIN Rail terminals are made of carefully selected, high quality materials, where the insulating materials and clamping and conducting metals are subjected to strict quality control as required by stringent international standards. All insulation materials are non−flammable and self−extinguishing, and carry approvals from the most rigorous examiners in the world. IMO DIN Rail terminals are engineered from Thermoplastic Polyamide 6.6 which offers excellent electrical, mechanical and chemical characteristics even at temperatures as high as 100°C, plus it contains no cadmium−based colour pigments in order to comply with European RoHS Compliance directives. The technical materials used to construct our terminals also enables the terminal housing to absorb humidity from its surroundings, allowing the plastic material to become elastic and fracture proof even at temperatures as low as −40°C. Add to that, great ageing resistance and insensitivity to ultraviolet light, and you have a product suitable for tropical and open−air applications. We even have a range of DIN Rail terminals with ATEX approval, making them suitable for operation in potentially explosive atmospheres.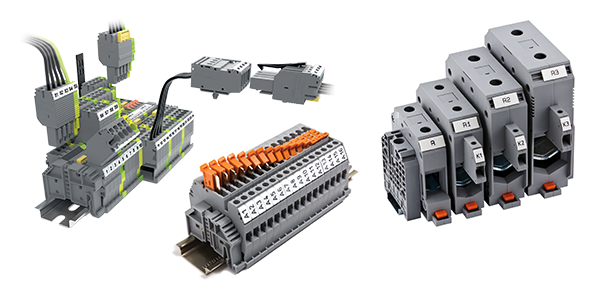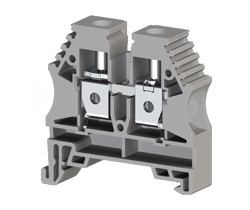 Screw Clamp Terminals (ER)
IMO's wide range of Screw Clamp terminals start with the smallest in the family − the T15 Series of mini terminals, designed specifically for use on TS15 rails, progressing through the ER Series of feed−through screw clamp terminals. Here the range expands to include earth terminals, high current terminals, multi−deck terminals, sensor terminals, disconnect terminals, fuse terminals, distribution terminals and test/disconnect terminals, and all are easy to use, robust and reliable − exactly what you would expect from an IMO product.
Push Fit Terminals (PF)
Specifically designed to meet vibration frequencies of up to 2kHz at a displacement of 20mm and an acceleration of 20g, the Push Fit range offer an effective and time saving alternative to standard screw clamp terminals. The Push Fit range is rated up to 800V / 57A with wiring capabilities up to 16mm2 and is designed to open and accept the wire without the need for a screwdriver. As the wire is pushed into the cavity, the clamp is opened to accept the wire which is then held in place by the force of the clamp. If time is short, the PF range is well worth considering as it can provide wiring time savings up to 70%.
Spring Connection Pluggable (SCP)
Introducing a totally new innovation in connection technology, the SCP range offers a wide variety of DIN Rail mountable terminals and features socket mounting by way of terminal plugs. Specifically designed to withstand vibration, the SCP offers optional clip locks to maintain connections, yet can be easily removed from the terminals by simply pushing the clip upwards. This along with a host of other thoughtful enhancements such as cable−tie mounts, make the SCP the most advanced range of DIN Rail terminals ever produced by IMO.
Range highlights:
Spring connection for quick and easy wiring
Vertical and horizontal plug socket types
Large range of colours and mounting types
Pin coding which eliminates possible error
Rated up to 500V / 24A
Breaking the mould, the SCP range offers a new type of terminal which doesn't mount on a DIN Rail, yet offers two, more flexible mounting options − Free Mounting and Hole Mounting − enabling you to connect in ways you previously wouldn't have imagined.
DIN Rail Terminal Resources